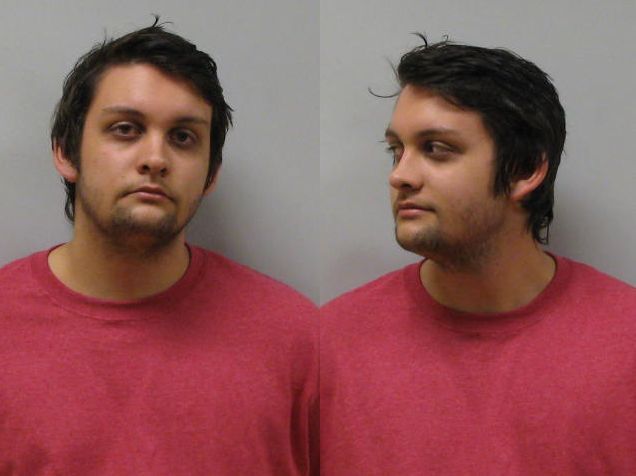 SUSPECT: Zachary Logan Goddu, 18 years old, of Chesterfield Township.
LOCATION: "Target" 51400 Gratiot, Chesterfield Township.
On Wednesday morning (10/07/2015), at approximately 9:00 am, a 911 caller reported that they observed a white male seated in a maroon Pontiac in the parking lot of Target, and that he was masturbating in the front seat. The caller gave a valid license plate for the vehicle and several Officers responded to the area but were unable to locate the suspect, his vehicle, or the 911 caller. Officers learned the vehicle was registered to a home in Chesterfield and searched that area but were unable to locate the man or his vehicle.
A short time later Officers received an additional 911 call from inside of "Target" stating that a male had just exposed himself to a female shopper inside of the store. Responding Officers spoke with the female shopper, a 28 year old Clinton Township woman, who told the Officers that while she was shopping with her 3 year old child and her 1 year old child, she began to notice a white male with shaggy brown hair and pajama pants following her and her children. She stated that as she became uncomfortable and began to leave she looked back down the aisle and the suspect pulled down the front of his pajama pants with one hand and began fondling himself with the other while looking directly at her. The woman stated she ran with her children to the nearest employee and pointed the man out, disclosing what he had just done. "Loss Prevention" employee's from the store told the man he was not free to leave, while they simultaneously called 911, but he fled into the parking lot stating, "I never did what she said I did". Employees were able to obtain the suspects license plate and described the vehicle as a maroon Pontiac (the same plate and description as the prior call). Employees also provided in-store surveillance footage of the suspect. Surveillance was set up at the suspects home address, but he did not return on this date.
On Thursday morning (10/08/2015) Officers received information that the suspect and his vehicle were now back at his listed home address on Wales Dr. in Chesterfield Township. Several Officers responded to this address and Zachary Logan Goddu was placed under arrest without incident. He was interviewed by Detectives who later presented the case to the Macomb County Prosecutor's Office.
After review by the MCPO, Zachary Goddu was charged with: Aggravated Indecent Exposure (2 year felony). He was arraigned moments ago via video from the Chesterfield Police Department to the 42-2 District Court in New Baltimore. His bond was set at $5,000.00 cash and he is being lodged at the Macomb County Jail.
Comments
comments