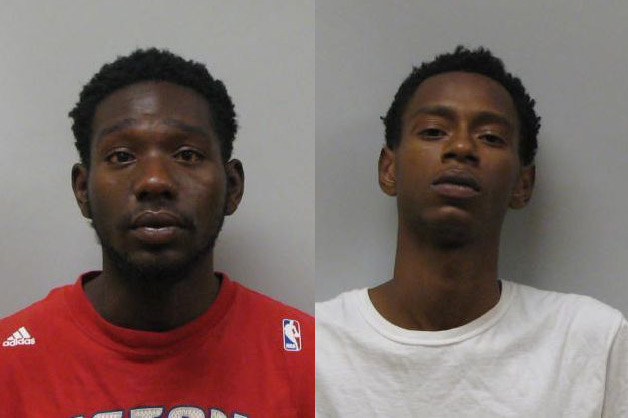 SUSPECTS:
Octavious Marvin-Terrell ROSS, 20 years old, from Chesterfield
Bryant Lee STEWART, 18 years old, from Detroit
LOCATION: 51200 Block of Village Edge E. "Aspen Creek Apartments"
On Monday night (9-21-15), at approximately 11:15, a 23 year old Chesterfield woman called 911 to report that she was just robbed by (2) men armed with handguns inside of the Aspen Creek apartment complex. She admitted to the responding Officers that she had made arrangements over the phone to meet an male there and purchase narcotics from him (marijuana and pills), but as she walked up to the building she was confronted by (2) black males, wearing black hooded sweatshirts, that pointed handguns at her and forced her to the ground. Once down on the ground the suspects took her purse from her and fled in between the buildings. Officers searched for the suspects and employed the assistance of a M.C.S.D K-9 unit, but were unable to locate them in the area at that time. Later that night Officers gathered information that led them to believe the suspects had fled to a mobile home park on Fairchild Road, between 22 Mile and 23 Mile Roads (Fairchild Lakes). Officers set up surveillance within the park throughout the night as more information was gathered, and ultimately around 10:00 am surrounded a particular mobile home on E. Aulac Rd. Upon entry into the home Octavious Ross and Bryant Stewart were placed under arrest and evidence/contents from the woman's purse were recovered. Later that morning Officers recovered a black replica handgun rolled up in a black hooded sweatshirt alongside one of the buildings in "Aspen Creek", and not far from the robbery scene.
Late Tuesday (9-22-15) afternoon both suspects were arraigned at the 42-2 District Court in New Baltimore via video from the Chesterfield Township Police Department.
Octavious ROSS was charged with "Armed Robbery" (a life felony) and later lodged at the Macomb County Jail on a $20,000.00 cash bond.
Bryant Stewart was charged with "Conspiracy to Commit Armed Robbery" (a life felony) and also held at MCJ on a $10,000.00 cash bond.
The investigation is ongoing at this time.
Comments
comments