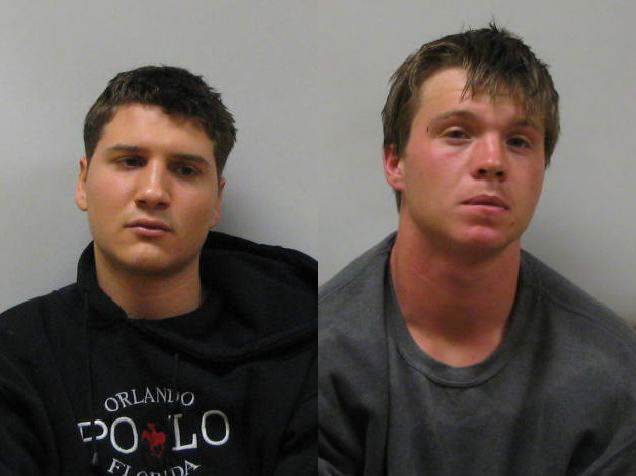 SUSPECTS:
Alessandro Roberto MARINELLO, 21 years old, from Chesterfield MI
Justin Michael DENEAU, 21 years old, from Allenton MI
At 3:05 am, on Wednesday October 21st, a 911 caller reported seeing (2) suspicious suspectsattempting to enter parked vehicles on the 29700 block of Chelsea St., in Chesterfield Township. The first responding Officer to that area turned the corner at Jessica Lane and Chelsea and observed a (2) subjects standing next to a parked vehicle (with its dome light on) in a driveway on Chelsea. At the first sight of the Officers patrol vehicle, both subjects fled on foot in between the homes. The Chesterfield Officer broadcast a description of the suspects to the other responding units, exited his patrol vehicle, and gave chase on foot. Multiple Chesterfield Patrol units responded and set a perimeter around the neighborhood. Both subjects were able to temporarily elude the Officers on foot, but a short time later Officers located suspect Alessandro Marinello laying down (hiding) in a parked vehicle (a red 2014 Dodge Charger) on Jennifer Dr. Officers ordered him out of the vehicle and located a wallet with him that had been stolen from one of the nearby parked vehicles.
Officers also located suspected marijuana in the vehicle. Officers determined the vehicle he was hiding in was actually his (Marinello's) and that he had parked it there when the (2) had originally entered the neighborhood and began looking for vehicles to steal from. Mr. Marinello was arrested and conveyed to the Chesterfield Police Department and his vehicle was impounded. Officers continued searching for the 2nd suspect and approximately 1 ½ hours later (at 4:38 am) located him behind the "Chesterfield Engine" business on Gratiot, south of 24 Mile Road. Officers ordered him to the ground and placed him under arrest, he was identified as Justin Deneau. The (2) later admitted during questioning that they had entered that neighborhood (Jessica Lane / Chelsea), after attending a party in Mt. Clemens, and that their sole purpose was to find unlocked vehicles to steal things from. They refused to admit responsibility for any other participation in the recent rash of vehicle break-ins that Chesterfield Township has experienced.
After review today by the Macomb County Prosecutors Office both suspects were charged with: (2) counts of "Breaking and Entering a Vehicle to Steal Property less than $200.00 (93 Day Misdemeanor), "Conspiracy to B&E a Vehicle" (1 year misdemeanor), and "Possession of Marijuana" (1 year misdemeanor). They were arraigned this afternoon at the 42-2 District Court in New Baltimore via video from the Chesterfield Police Department. They are both currently being held at the Macomb County Jail, Alessandro Marinello on a $5,000.00 cash bond and Justin Deneau on a $10,000.00 cash bond (Justin Deneau was currently on probation for previous convictions for breaking into vehicles).
Comments
comments