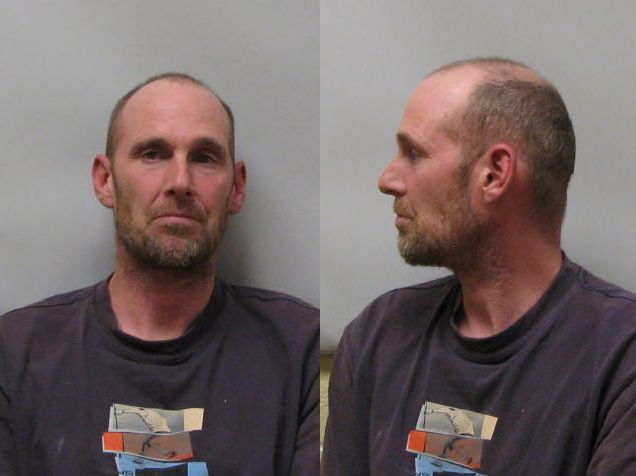 SUSPECT: Douglas Mathew VERLA, 43 years old and currently residing in Chesterfield Township.
On Tuesday evening (12-22-15), shortly after news and social media coverage of the Meijer Gas robbery, citizens came forward with information and tips. Investigators, acting on citizen information, focused on a Douglas Verla and learned that he had recently moved back to Chesterfield after having lived out of state for several years. A LEIN check on Douglas Verla revealed that the Charleston County Sheriff's Office in South Carolina had just entered (on 12-21-15) a Felony Bank Robbery warrant for his arrest. The check also revealed that Mr. Verla was wanted by Macomb County on an outstanding Retail Fraud warrant, by the 47th District Court in Farmington on a Probation Violation warrant, by Pinellas County Florida for Probation Violation, and that he was listed as a Probation Absconder out of Wayne County. When investigators obtained a recent photo of Mr. Verla and compared it with the Meijer surveillance images, it was apparent that Mr. Verla was responsible for the robbery.
Several Chesterfield Township Officers and Investigators then made the address where the "tipster" said Mr. Verla was known to recently reside. Mr. Verla was taken into custody at this location, a residence in the "Fairchild Lakes" mobile home community, at approximately 7:15 p.m. During the arrest Officers recovered cash proceeds from the robbery, clothes worn during the robbery, and several packs of suspected heroin.
During questioning after the arrest Mr. Verla initially denied ever being in the Meijer Gas station, but when confronted with evidence and video footage of himself he gave a full confession, describing himself as a 10+ year heroin addict that needed help.
After review this morning by the Macomb County Prosecutors Office, Douglas Verla was charged with: Robbery Armed (a life felony) and Possession of Heroin (a 4 year felony). He was arraigned at the 42-2 District Court in New Baltimore via video from the Macomb County Jail. His bond was set at $400,000.00 cash surety. His Preliminary Exam date is scheduled for January 4th, 2016 at 1:30pm (42-2 District Court in New Baltimore).
Comments
comments