SUSPECT: A white male, in his 30's, average height, thin build, wearing a red stocking cap, blue hoody under a green jacket, dark pants, and light colored tennis shoes.
LOCATION: The "Meijer" gas station located at 51095 Gratiot Ave, Chesterfield Township Mi., 48051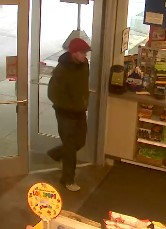 On Tuesday morning (12-22-2015) at approximately 9:40 a.m., a lone suspect (described and captured in photo's above) entered the Meijer gas station and walked directly to the cashiers counter. He held his hand in his jacket pocket and demanded money from the clerk, stating that he had a gun and that he had nothing to lose. The clerk handed the suspect an undisclosed amount of money from the register and the suspect fled on foot out of the front doors of the gas station and then towards the rear of the building. The clerk called 911 stating that she had just been robbed and multiple Chesterfield Township Police units responded and set up a perimeter around the area. After a lengthy search that included the assistance of a MCSD K-9 unit, Officers determined that the suspect had made good his escape and was no longer in the immediate area.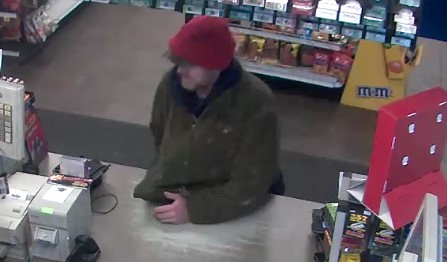 Investigators believe that the suspect, after the robbery, removed articles of his outer clothing and entered the vestibule to the actual "Meijer" store which is located several hundred yards west of the gas station. The attached image is from Meijer surveillance footage in the stores vestibule.
We urge anyone that may recognize this suspect or have information about the robbery to contact the Chesterfield Police Department at 586-949-2322 or Crime Stoppers at 1-800-SPEAK-UP.
Comments
comments