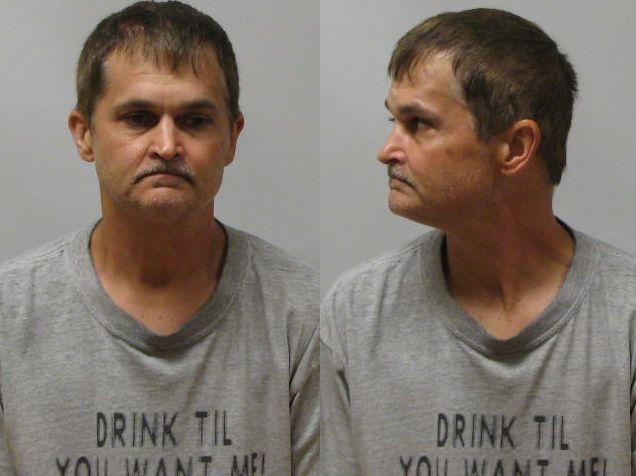 On Sunday (August 23rd, 2015) at approximately 1:00pm, a Chesterfield woman that had been shopping inside the "Meijer" store (23 Mile Road and Gratiot) noticed her wallet was missing from her purse when she got to the register. She was sure the wallet had been in her purse when she got to the "Meijer" store, explaining to Officers that prior to entering the "Meijer" she had made a purchase at the nearby "Target" store and had placed her wallet back in her purse at that time. Chesterfield Officers summoned the assistance of the stores "Loss Prevention Team", who began reviewing video of the woman's journey through the store. They were able to locate the theft on the stores surveillance video and Officers observed that while she was making a purchase at the meat counter, an unknown white male, with brown hair, wearing a gray t-shirt that said, "DRINK TIL YOU WANT ME", reached into her purse (that is sitting in her cart) and took out her white wallet. The suspect is then observed in the video to walk directly out into the parking lot and drive away in a red 2-door Chevy Cavalier. A clear still shot of the suspect leaving the store was captured and Officers gathered to review the photo. A Chesterfield Officer immediately recognized the suspect as Rickey Bielat, and knew that he drove a red Cavalier from prior contacts with him.
Chesterfield Officers met up with New Baltimore Officers and went to Mr. Bielat's last known address in New Baltimore. Parked in front they observed a red 2-door Chevy Cavalier and began knocking at the front door. Mr. Bielat answered the door in a gray t-shirt with "DRINK TIL YOU WANT ME" on the front and was taken into custody at the front door without incident. Mr. Bielat refused to speak with Officers regarding the theft. Officers were unable to locate the woman's wallet at this time.
Rickey Bielat was charged and arraigned on Monday (8-24-15) for "Larceny From Person", a (10) year felony. He is currently being held at the Macomb County Jail on a $20,000.00 10% cash bond.
Comments
comments