Chesterfield Township Director of Public Safety – Brian Bassett, recently sat down with Macomb County Prosecutor – Peter J. Lucido, and Chesterfield Township Supervisor – Brad Kersten, to discuss ongoing initiatives to protect seniors from scams this holiday season.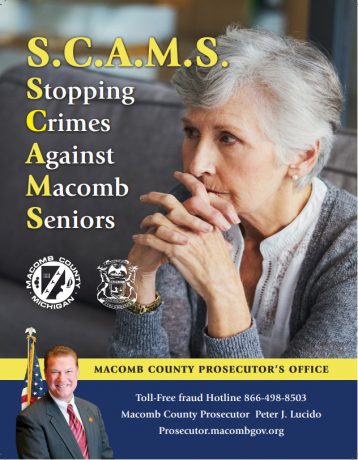 Prosecutor Lucido also introduced his new booklet entitled "S.C.A.M.S. – Stopping Crimes Against Macomb Seniors" available for download by clicking here.
Protect yourself from SCAMS
Don't be pressured to make an immediate decision.
Don't pay for something merely because you will get a free gift.
Get all information in writing before you agree to buy.
Check out a charity before you give.
Don't invest your money with an unknown caller who insists you make up your mind immediately
Always be skeptical of salespeople that call you. Typically roofers, repairmen, and professional money investors don't contact you, you contact them. Check out unsolicited offers with the Better Business Bureau, local consumer protection agency, Prosecutor's Office, or the state Attorney's General's Office.
Be cautious of statements that you've won a prize, particularly if the caller states that you must send money to claim the prize.
For more information about Prosecutor Lucido's SCAMS Program, visit https://prosecutor.macombgov.org/Prosecutor-SeniorSCAMS or call the Prosecuting Attorney's Office at 866-498-8503
Comments
comments