SUSPECT: Patrick Edward Oconnor, 24 years old and a Chesterfield Township resident.
On February 1st, 2016 the Clinton Township Police Department advised the Chesterfield Police Department that they were investigating an animal cruelty complaint and that during the preliminary stages of the investigation they had determined the crime had most likely occurred in Chesterfield. The initial complaint came from the "Advanced Animal Emergency" (located on Gratiot in Clinton Township) where a Veterinarian reported that a pit-bull mix dog had been brought in by a Chesterfield woman and that the dog was suffering from (9) apparent stab wounds to the body, one of which punctured the dogs lung and required surgery. The woman stated that an ex-boyfriend had stabbed the dog, but refused to supply his identity in fear of retaliation. Chesterfield Detectives took over the investigation and focused on Patrick Oconnor, but were unable to initially make contact with him.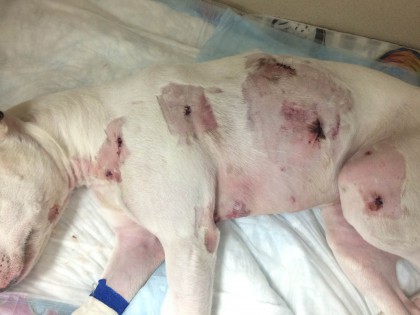 On Tuesday February 10th at approximately 3:30am Chesterfield Township Officers responded to a Domestic Violence call at the "Georgetown" apartments (28100 block of 23 Mile Road in Chesterfield Township). Patrick Oconnor was ultimately arrested at this location for assaulting a 29 year old female acquaintance. While held at the Chesterfield Police Department on the Domestic Violence charge, assisted by Attorney Michael J. Aed, Detectives questioned him regarding the injured dog. Patrick Oconnor told investigators that he had an alcohol and anger management problem and that "I did what I did". Investigators believe Patrick Oconnor was upset that the dog had had defecated on the floor in his apartment, provoking his stabbing attack on the dog.
After review by the Macomb County Prosecutors Office, Patrick Oconnor was charged with "Domestic Violence" (93 day misdemeanor) and "Animals-Torturing/Killing" (4 year felony). He was arraigned yesterday at the 42-2 District Court in New Baltimore via video from the Chesterfield Township Police Department. His bond was set at $20,000.00 cash and he is currently being held in the Macomb County Jail.
Investigators have learned that the dog is slowly making a recovery and that one of the veterinarian's that administered the emergency care is actually adopting the dog, as the woman who initially brought her in has signed off on her ownership.
Comments
comments